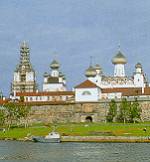 The Solovki Monastery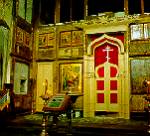 The sacristy of the
St Mary Annunciation
Churcht
The Solovki Monastery
In 1429, a Monk named Savvaty and his companion Herman arrived the Bolshoi Solovetski Island in the White Sea in a small and fragile boat, seeking austere seclusion in the far North. They stayed on the island for six years. Then Savvaty died and Herman left for the main land. In 1436, Herman returned, this time with another monk, the holy Zosima. Together they founded the Solovki Monastery.
The first Transfiguration Cathedral was a wooden church. It burned down, and a stone church was built in 1566. This church is still the central building on the island. This northern monastery soon became a goal for pilgrims from all over Russia. Thanks primarily to the work of the brethren, the architecture on the island grew to become one of the most beautiful in the whole Russia.
The number of northern pilgrims increased during the 19th and the beginning og the 20th century. But in 1920 the communists closed down the monastery, and in 1937, Stalin made it a prison and later a concentration camp. The monastery was reopened in 1990.