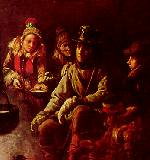 Louis-Philippe at the
North Cape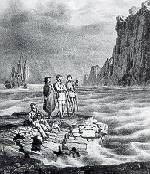 Louis-Philippe going ashore
Prince Louis-Philippe at the North Cape


The French prince, Louis-Philippe of Orleans, sought refuge numerous places following the French Revolution. He travelled throughout Europe and the United States using various pseudonyms. Pretending to be the learned Mr. Müller, of Switzerland, he completed a trip to the North Cape in 1795. He journeyed along the coast, frequently being conveyed by small boats, as was customary at that time, and he spent the nights at parsonages and inns. His last stop, before arriving at the North Cape, was at a merchantman Mr. Buck, of Måsøy, where Louis-Philippe experienced an unforgettable reception, despite the fact that his true identity was unknown. We do not know much about the actual visit to the North Cape itself. Paintings exist, which were ordered by the future king at a much later date, but these hardly attest to any valuable information.

The prince wrote several letters in which he thanked his hosts, and revealed his true identity, upon returning to central Europe. Rumors of the disguided prince spread quickly. Louis-Philippe became king of the French people after the July rebellion of 1830. He never forgot Finnmark, and he commissioned paintings made in memory of this trip. The Norwegian painter, Peder Balke, was one of those who painted for the king. In 1838-1840, Louis-Philippe equipped a scientific expedition, of considerable size, that was to leave for the northern regions. This was the so-called Recherche expedition.