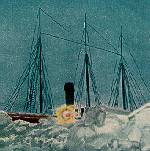 The Roosevelt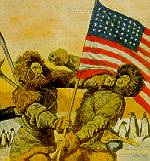 Cook and Peary
Robert E. Peary at the North Pole


During the years 1886-1906, the American Robert E. Peary (1856-1920)

made several expeditions to the northern regions. Northern Greenland and Ellesmere Island were among some of the sites visited. Peary managed to reach 87° 6' N, in 1906, which was further north than any man had previously accomplished.
In 1908 he headed off for the North Pole on the ship Roosevelt. Peary and his crew left for the Pole on 1 March 1909. His party consisted of twenty-four men, dogs and sledges. And Peary, Matthew Henson and four Inuit reached their goal on 6 April.
The American Frederick Cook returned from a polar expedition, too, claiming to have reached the North Pole on 21 April 1908. His story, however, was not considered reliable. Cook eventually became known as the "North Pole imposter".