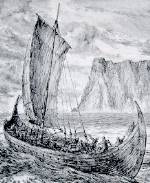 Ottar's journey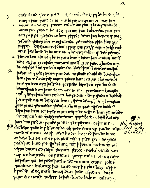 The Old English Orosius
Ottar's Journey
The Viking chieftan, Ottar, sailed around the North Cape in the 9th-century AD and followed the Norwegian coast to Kola, before reaching the White Sea. He continued as far as the land of the Biarmians. The journey to the North Cape preceded through familiar waters, but the continuation of his voyage led him into an uncharted realm. His voyage has for this reason become symbolic, in Norway, of the fearless journey to the unknown North.
Ottar eventually travelled far afield to King Alfred of England to tell of his escapades. And Alfred recorded this as part of his world history, The Old English Orosius, which in part was a translation of the ancient Roman Orosius's volume, dating from 400 AD. Ottar told of having lived in northern Norway; he claims that he was one of a group of Norwegians who lived furthest north. It is likely that he lived in what is now known as Troms County, at the northernmost border of Norwegian settlements at that time. "He told once how inquisitive he became in knowing how far north the country stretched, and to learn if any man lived to the north of the wilds. Then he sailed northwards along the coast." Ottar's journeys began in the north, continued eastwards and, finally, headed southwards. He arrived at the southern point of the White Sea, the home of the Biarmians. "The land had been settled on the other side of the river. He had not seen settlements, on any earlier occassion, since he left home. Desolate countryside met him on his starboard side continuously throughout his journeys, except for occassional fishermen, birdcatchers and hunters. And all of them were Sami."
Ottar's narration is the oldest eye-witness account that has been kept on record and which reports on conditions in northern Norway. Despite its brevity, this report contributes with valuable insight of live in the unknown North.