Myths - Satan in the North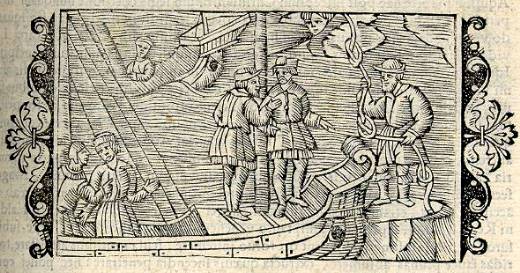 (Bok 2, Kap.16) Weather magic: A sami selling a rope with three wind-knots to sailors. In the background a wind follows the transaction.
Wood cut from Olaus Magnus
According to Petter Dass, this is what happened when the seamen untied the knots:
If you are locked up by ungracious wind
And look for a change, so your trip may begin,
The Lapp will arrange such a bargain.

He uses his craft and his magic with speed;
Three knots on the handkerchief are all he needs -
He gives them to you for your keeping.

Untie but the one for a gentle, good breeze,
The sails will be filled, you make progress with ease;
But if you the second will loosen,

You pull in the canvas to barely half mast.
The third will send wind that will race you so fast
That pumps you will have to resort to.