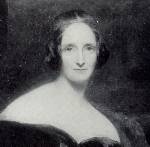 Mary Shelley (1797-1851)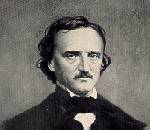 Edgar Allan Poe (1809-1849)
Romantic poets creating myths about the North
The poets of romantisism had their dreams about the northern regions and created myths according to their dreams. Mary Shelley's Frankenstein (1818) is introduced with a very special northern dream:
"I try in vain to be persuaded that the pole is the seat of frost and desolation; it ever presents itself to my imagination as the region of beauty and delight. There, Margaret, the sun is ever visible; its broad disk just skirting the horizon, and diffusing a perpetual splendour. There … snow and frost are banished; and, sailing over a calm sea, we may be wafted to a land surpassing in wonders and in beauty every region hitherto discovered on the habitable globe."
A descent into the Maelström, the story by Edgar Allan Poe, creates the myth of the dangerous northern current, swallowing boats and men.
"Never shall I forget the sensation of awe, horror and admiration with which I gazed about me. The boat appeared to be hanging, as if by magic, midway down, upon the interior surface of a funnel vast in circumference, prodigious in depth, and whose perfectly smooth sides might have been mistaken for ebony, …"