Peder Balke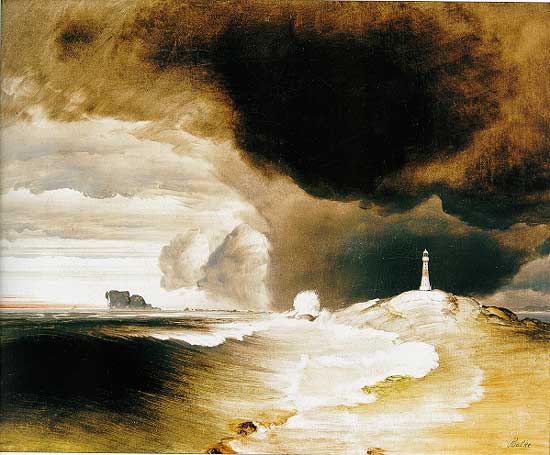 "The day after my arrival at Vardø, I went for a walk on the island in order to observe the sea which broke against the cliffs after the storm which raged the previous day. I will never forget the fantastic sight which bestowed itself upon my inquisitive nature: I had sat down upon a plateau, which was more than 100 ft above sea level, when I actually thought that I had to hold on to the rocks when the so-called "backwash" broke against the mountain wall and, in a thunderous voice which drowned all else, rolled out to sea, once again, only to repeat the same futile but stormy dash against the wall which stood there - a wall made firm as a rock by the ferocious and eternally roaring waves of the Arctic Ocean."
Peder Balke: Fyr på den norske kyst, ca. 1855. 58,5 x 70,5 cm.
National Gallery, Oslo.