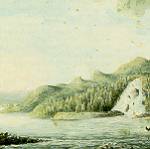 River Alta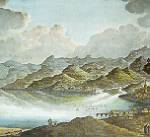 Talvik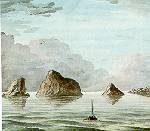 "Stappene"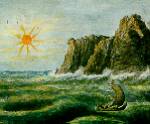 .Waterpainting by
Skjöldebrand, 1799
Skjöldebrand and Acerbi at the North Cape


Four years after the French prince, Louis Philippe, had visited the North Cape, two young foreigners came traveling in a direction that was nearly identical to that of the prince. The young men, it seems, were received as royalty wherever they went - perhaps one of them was a disguised prince! These two were none other than A.F. Skjöldebrand, a Swedish colonel, and Guiseppe Acerbi, an Italian lawyer. They travelled by boat from Alta to the North Cape. On the way, they paid a visit to an aging woman in a dwelling of the coastal Sami:

"We were astonished at the quantity of things this good and provident woman had in her magazine. There was plenty of dried fish, and dried rein-deer flesh, cheese, and tongues of rein-deer, oatmeal, rein-deer skins, fur and woollen cloths, and other articles. Every thing bespoke riches and comfort; and what was most remarkable, our kind hostess gave us whatever we wanted in the most liberal manner, and without the least idea of receiving aught in return: on the contrary, she persisted in refusing to accept any money when we offered it. I have seen very few places where the people live in so easy and happy simplicity as in the maritime districts of Lappland."

But they soon discovered that the journey was less agreeable the closer they approached the North Cape:

"Here every thing is solitary, every thing is steril, every thing sad and despondent. The shadowy forest no longer adorns the brow of the mountain; the singing of the birds, which enlivened even the woods of Lapland, is no longer heard in this scene of desolation; the ruggedness of the dark gray rock is not covered by a single shrub; the only music is the hoarse murmuring of the waves…"

Skjöldebrand and Acerbi became bitter enemies on the return journey, and each of them ended up writing their own version of their trip together. The citations quoted here have been obtained from the English edition of Acerbi's Travels through Sweden, Finland and Lapland to the North Cape in the Years 1798 and 1799, which was published in 1802.

The journey of Skjöldebrand and Acerbi is a typical example of early tourism when adventurous but wealthy Europeans seeked the exotic and perilous North. To travel like this was still so unusual at the time that most of these adventure-seekers wrote a book upon their return!